Exhibition 15.5. – 19.6.2020
In the meantime, we have successfully put the last exhibition online because of Corona: "Home: Think global, act local". We are also showing the analogously planned exhibition "Climate Change to go" online:
Background
Many people do not feel affected by climate change. They continue to live as they have done up to now.  Even those who have recognized the problem often find it difficult to make sustainable consumption decisions in hectic everyday life or based on social expectations.
The demand for decadent luxury strengthens an immense emission of climate-damaging greenhouse gases, said economist Nico Paech of the University of Siegen. "These are cruises, these are SUVs, this is air travel, digital electronics and the demand for even more living space." This is pure comfort that cannot be justified as the satisfaction of essential basic needs. (SPON 1.12.2019)
The government is afraid of being voted out of office for major measures. The lobby is slowing down. Some people think you can solve everything on the side with technology. Scientists and dedicated individuals warn and demand political and personal change. The outstanding changes are huge. Society needs transformation.
What are the decisions driven by comfort, what are their consequences, what are the reasons for our actions and how can we, as individuals and as a community, take new paths?
Participating artists
Manja Dessel, Lioba von den Driesch, Francesco Gioacchini, Stephan Groß, Rika Pütthoff-Glinka, Julia Schicker, Rosa Schmidt, Mari Terauchi, Martin Zellerhoff
Climate change to go programme
Exhibition online
Vernissage 15.5.2020, 7 pm
Welcome and introduction to the exhibition: Curator Tom Albrecht(Video 6:41 min.)
Video chat of the guests and GG3. To do so, click the link for Chrome-Browser from 19 o'clock here at this place.
Artists meet guests online
on changing dates, hosted by Tom Albrecht
In each case from 18:00 to max. 18:30
Preparation from 17:00.
Please click on the link with the artist name from 18.5. in each case to the dates starting from 17 o'clock.
Only participants with picture and language will be admitted.
For PC please use the browsers Chrome or Firefox or Safari. Large screen is better.
For Smartphone, Tablet please install the app Jitsy Meet from the store before. For Android data protection sensitive persons please install the app Jitsy Meet from F-Droid-Store.
Headset recommended or earphones with microphone
Camera and microphone must be activated.
Martin Zellerhoff 18.5.
Julia Schicker 26.5.
Rosa Schmidt 28.5.
Francesco Gioacchini 29.5.
Mari Terauchi 2.6.
Manja Dessel 5.6
Stephan Groß 15.6
Video-Lecture 12.6.,
Christian Löwe, Umweltbundesamt "Umweltkrise, Digitalität und Kunst" (Video lecture)  in german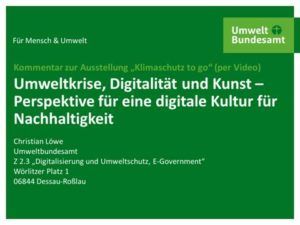 Finissage June 19th, 7:00 p.m.
"Review of the exhibition" via public group video chat with the artists of the exhibition, guests and the GG3 team. Please provide drinks to toast.
Link to the chat will be available here from 18:45.
49th exhibition