Artists and professionals on our addictive reliance on fossil fuel energy
10.1. – 6.3.2020, Fridays 5 – 8 pm
Exhibition, dialogues, workshop, workshop discussion
Fine Art Prints, Videos, Installations, Collage, Painting, Object
The exploitation of fossil energy has given us the dream of flying, the free ride for free citizens, the consumer mania, the plastic flood, the comfortable warm apartment. Our use of petroleum, fuel oil, natural gas can also be seen as a drug problem.
We use state-organized the fossil drug with all side effects like CO2 emissions and dependencies. Letting go of this non-substance drug causes withdrawal symptoms with all their irrational manifestations. One only has to look at the reader comments to see the discussion about 30 km/h in the city or 130 km/h on the highway. An understanding of the disease of addiction is lacking. Rational argumentation gives way to addictive intransigence. Detailed our view: what is fossil seeks?
Artists show their critical contributions to "Fossil Addiction
How do artists view fossil addiction and its treatment? How do you recognize addiction? Where does it occur? What might withdrawal therapy look like for citizens and the state? What do images of Fossil Addiction and its therapy look like?
Tom Albrecht, Jörn Birkholz, Stephan Groß, Marina Camargo, Maria Korporal, Merav Leibkuechler, Steph Marx, Christoph Medicus, Jasmin Odendahl, Katja Struif


Location


: Project room GG3 of the

Group

Global 3000

e.V.

, Leuschnerdamm 19, 10999 Berlin,

www.gg3.eu

Jury: Team GG3,
Curator
Tom Albrecht
Fossil Addiction Program
Vernissage 10.1.2020, 7 pm.
Exhibition 17.1., 17 -20 h
Artist Steph Marx will be in attendance.
Artist talk Jan. 24, 2020, 7 p.m.
Artists of the exhibition present their works to the guests.
Workshop discussion Mrs. Jan. 31, 7 p.m.
with the addiction physician
Prof. Dr. med. Tom Bschor, Chief Physician of the Schlossparkklinik and
Prof. Dr. Hermann E. Ott, ClientEarth – Lawyers of the Earth, ex. Climate researcher at the Wuppertal Institute:
"How do we recognize the addiction to fossil energy among citizens and the state? Is there insight into the disease of addiction? What might withdrawal therapy look like for citizens and the state?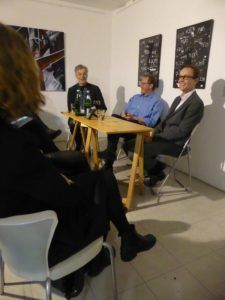 The two experts discuss answers and solutions in a public conversation. Moderated by Tom Albrecht.
Audio recording of the workshop discussion:
The conversation was very stimulating, entertaining, humorous, informative for the participants. It is a fund of solutions to cure our "Fossil Addiction".
Second workshop Feb. 7, 7 p.m.
How do artists reduce their ecological footprint? The topic is their use of the Internet with video, images, text and audio for website, mail and social media. Moderation Tom Albrecht (In German)
Exhibition 2/14, 5-8 pm
The artist Marina Camaro will be present.
Exhibition 21.2., 17-20 h
The artist Maria Korporal will be present.

Exhibition 28.2., 17-20 h
Finissage 6.3.2020, 7 pm
Roundtable "Fossil Addiction"
Guests and and members of GG3 talk about effects of the exhibition, findings from it and the outlook. Presentation of a mind map from the workshop discussion.
Exhibition from 5 pm