Online Exhibition "Climate Change to go"
May 15 – June 19, 2020
Next dates:
Artists meet guests online

on changing dates, hosted by Tom Albrecht
In each case from 18:00 to max. 18:30
Preparation from 17:00.
Please click on the link with the artist name from 18.5.
Only participants with picture and language will be admitted.
For PC please use the browsers Chrome or Firefox or Safari. Large screen is better.
For Smartphone, Tablet please install the app Jitsy Meet from the store before. For Android data protection sensitive persons please install the app Jitsy Meet from F-Droid-Store.
Headset recommended or earphones with microphone
Camera and microphone must be activated.
Martin Zellerhoff 18.5.
Julia Schicker 26.5.
Rosa Schmidt 28.5.

Francesco Gioachini 29.5.
Mari Terauchi 2.6. Wir hatten ein anregendes spanndes Gespräch. Was hat Klimawandel mit Corona zu tun? Wo sind Parallelen, wo Unterschiede? Was kann die Kunst dazu sagen? Was lernen wir aus Corona für den Klimwandel?
Lioba von den Driesch 4.6.
Stephan Groß 15.6.
12.6., Video presentation for "Climate change to go"
Christian Löwe, Umweltbundesamt "Umweltkrise, Digitalität und Kunst" (in German)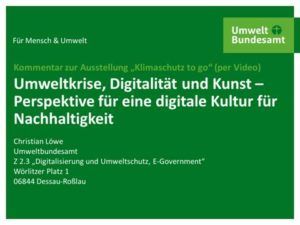 19.6., 19h Finissage
"Review of the exhibition" via public group video chat with the artists of the exhibition, guests and the GG3 team. Please provide drinks to toast.
Link to the chat will be available here from 18:45.
49th exhibition