Paths to sustainability – Residency and exhibition
Painting, graphics, installation, video, performance
Exhibition, talks, presentation 16.8.2019 – 25.10.2019, Fridays 17- 20 clock
Residency was 19. 7. 2019 – 15.8. 2019
Many people seek fulfillment in consumption. Some people are already seeking and practicing life in harmony with the borders of our earth. They are accompanied on this way by advice, role models, suggestions and dogmas. How do we decide, what convinces us? What does a sustainable lifestyle look like for an ecologically, socially and economically sustainable society?
Residence and exhibition address this search for ways to sustainability, the obstacles and detours, the doubts and beliefs. The call was addressed to artists working in the field of sustainability and economics.
The three selected artists will be working from 19. 7. 2019 until 15.8. Residency at the Academy for Sufficiency in Priegnitz in 2019 and then exhibiting the works created there at Group Global 3000 in Berlin. They have material from Kunst – Stoffe – Berlin at their disposal. For example, they collect barely used materials that are in good condition. The materials are donated by DIY stores, craft tradesmen, companies, fairs and private individuals.
Sustainability means understanding ecological boundaries and orienting ourselves towards social justice. We define economics as an organization of care for people. The way we do business is crucial to whether we can meet global boundaries and whether social justice is possible.
Works by the three artists
125 million tons of clouds
We take it so naturally that we are online. Every day, we upload our memories in the form of photos, videos, text and sounds to social platforms that are stored and backed up several times on servers in cloud locations around the world. This consumes a huge amount of energy and generates 125 million tons of CO2 emissions per year. Ironically, the symbol of this memory is a cloud, as is the symbol for CO2 emission. It's about the same amount of CO2 that all planes in the sky blow into the clouds. And if we think it's enough to put our cell phone aside, that's not it, because our data is stored as digital garbage all the time and fed with energy. Krisztina Fazekas-Kielbassa's works in this exhibition question our digital culture and seek salvation in nature.
There's nothing to see here
In the village Reckenthin distracts little from the environment, no advertising poster far and wide, which screams for attention. The packaging on the breakfast table alone communicates advertising messages. In the Academy for Sufficiency Sophie Gnest wants to send new messages beyond growth. At the residence, she's looking for new ways of rethinking: she turns packaging on the left to develop new messages, posters are radically honestly texted ("Sorry, battery sticking") and a card game called "Umdenkpaar" shows new everyday practices with a wink , As we move in familiar places as well as in new places like the academy, she works with an advertising blockade in Berlin and, by re-embodying her ad-free experiences on location.
Overcoming advertising
It is the person who painter Elke Philomena Kupfer is particularly interested in in her artistic work. In her conversations with her models, she repeatedly observes a search for herself with the question "How does the meritocracy deform us?" The same applies to the people she draws and paints in the residence of the Academy for Sufficiency. A big topic is here : How can I reuse things and integrate them into my everyday life? At the Center for Recyclable Materials and in the AfS, she was looking for materials to bring to the canvas. The canvas itself replaces it with plastic tarpaulins from a former advertisement and brings plastic shopping bags to new heights over and over again. For example, 200 zippers were picked up on a large-format portrait and picked up by suitcases at Paris airport. There are small portraits on the silvery paper of coffee bags, which someone had collected and lovingly rolled up. Things that people no longer need, she works on the canvas, so she uses in her art again to make them visible to the beholder again. It is their way of encouraging sustainability and rethinking.
Information about host institution, venue and partners
akademie-suffizienz.de
gg3.eu
kunst-stoffe-berlin.de
Program of the exhibition"Paths to Sustainability"
Vernissage 16.8., 19 clock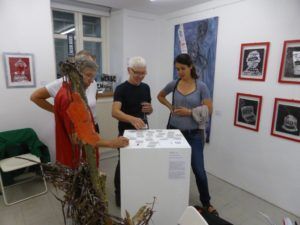 Trio Salama: Songs – acoustically and very close. Guitars, ukuleles, percussion, polyphonic singing. Video, 2:26
Performance "Body seeks sustainability", Sophie Gnest. Video, 10:09

23.8., 5 – 8 pm Exhibition. Elke Philomena Kupfer is present.
Artist talk 30.8., 19 clock.
Artists of the exhibition
talk to guests about their works
Exhibition from 17 clock
Lecture 6.9., 19 clock, (in German)
"Sustainability through Better Technology or Less Consumption?" Dirk Arne Heyen, Senior Researcher, Öko-Institut e.V., Berlin Office.
Lecture (in german), 50 slides with topical questions and recommendations, e.g. "May the state forbid and restrict it?" What to do? Applying at the big points. "How sufficiency policy can succeed"
Text interview of the campaign website of the German Environmental Foundation with Dirk Arne Heyen: https://kaufnix.net/interview-dirk-arne-heyen/ as a supplement to the lecture.
On the need for sufficiency and sufficiency policy
Climate change, extinction of species, flooded seas: Will new and more efficient technologies save our planet? Or do we have to rely on sufficiency, that is to change our lifestyle and consume less, fly less and feed us differently? After consumer decisions have long been treated as an individual matter, there are now increasing calls for clear prohibitions. This in turn calls critics who fear freedom in society. The lecture sheds light on the necessity, potentials and limits of various sustainability strategies – and the question of what role the policy can and should play for sustainable and sufficient consumption.
Exhibition from 17 clock
13.9. 5-8 pm Exhibition
20.9. 5-8 pm Exhibition
27.9. 5-8 pm Exhibition
10.4. 5-8 pm Exhibition
10.11. 5-8 pm Exhibition
10.18. 5-8 pm Exhibition
Finissage 25.10., 19 clock
Performance "Life and Experience in the Residence", Krisztina Fazekas-Kielbassa
Exhibition from 17 clock
Curator of the exhibition: Tom Albrecht
Address
Leuschnerdamm 19, 10999 Berlin. Kreuzberg at the Engelbecken
U8 Moritzplatz, U1 Kottbussertor, M29 Oranienplatz, Bus 147 Michaelkirchplatz