Videos and images from the program of TRANSFORMATION
Videos and images from the program of TRANSFORMATION
Program
Fri. 1.4.2022 from 5 p.m. Vernissage, soft opening 6 and 7 p.m. with welcome by Tom Albrecht, introduction by Sandy Becker.
Get ass up
Speech performance with guitar,bird whistles, sound and deer antlers
(C) Tom Albrecht: text, voice, sounds and Stephan Groß: guitar
Vernissage of the exhibition TRANSFORMATION 1.4.2022, Group Global 3000, Berlin
Hello SUV-drivers, politicians, fossil-addicts, fossil-earners, conspiracy-believers, waiting, finger-pointing, hedonists, deniers, non-competents, neighbors, fellow human beings, real estate owners, voters, citizens,
Hello father, mother, daughter, son, grandson.
What are you waiting for? Where are you hesitating? Do you think you can't change anything? All this has nothing to do with you? Not with your future, your children, your grandchildren?
Get your ass up!
Science agrees. Groundwater is already down. Species are dead. Warmer it is worldwide. How many species, forests will die, areas will be sealed, how many coasts will sink, people will flee from the climate, die because of the climate. How much exploitation will remain, how many viruses will still come from the zoonoses, how hot will it get?
Get your ass up!
Where are your potentials, your activities to change, to save the world, from global warming, from extinction of species, from dependence on dictators?
Get your ass up!
There is a lot to do on the way to a world fit for grandchildren. Big changes, personal, neighborly, with friends, like-minded people, communal, regional, national and global. We have been too slow so far. We need momentum that we don't have today.
Get your ass up!
The sooner we get to it, the easier the arduous adjustments will be. Timely action is more beneficial than procrastination. Assume a lot will change. Go for it, use your potentials, apply the energy saving tips, find out online your CO2 and your footprint, eat more vegetables and less meat, repair things instead of buying new, spend vacations flying less, buy solar, vote for the most climate active party, take to the streets for these changes, join with people for change.
Get your ass up!
You may get restlessness, but you may get inner peace because you found it, fun, depth, satisfaction, good conscience, focus on what matters, save money. Your long-term thinking pays off. Be active, experiment, compromise.
Get your ass up!
5.4., 7 p.m. Workshop: Jila Svicevic from Estonia will produce a participatory artwork with the participants* resulting in a large sculpture made of wildflower seed bombs.
All interested are invited, no previous experience required, materials will be provided.
Video of wildflower seed bomb sculpture workshop, 9 min.
8.4., 7 pm: artist talk: artists of the exhibition talk about their works with guests
29.4., 7pm: Fri. 4/29, 7 p.m.: Lecture with discussion (in german) "From an Imperial Way of Life to a Culture of Relatedness. Ways and visions for a cultural change towards a sustainable society". (In german)
Dr. Cornelia Kühn is a cultural anthropologist at the Humboldt University in Berlin and is currently researching the common good economy and possibilities for a social-ecological transformation.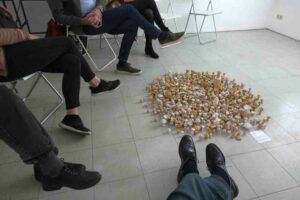 An enlightening lecture with an exciting conversation. Dr. C. Kühn shows ways and visions. These fertilize the next exhibition "The Good Life".
6.5., 7 p.m.: Fri. 5/6, 7 p.m.: "Heroes of the Transformation". Dr. Johannes Balve reads in german from his novel "Fukushima – Happy Island",
Talk about the heroes of transformation. (In german)
Zen music played by Peter Pütz on the Japanese Shakuhachi flute
13.5., 7 p.m.: Youth speaks on the climate crisis: What do they want, what do they do? Carla Ruf, Schoolgirl. With discussion and workshop "What does transformation mean for citizens and politics". Introduction and moderation: Tom Albrecht
20.5.2022, 7 pm Finissage: Erik von Senftenberg "Sprechgesänge mit Piano zur Tragödie von Belarus."
Corona
The regulations on infection control apply with 3G. Depending on the current situation, we show the exhibition and the program physically in our rooms.
56. Exhibition